Below is a scan (I'm playing with a new toy) of a page of entertainment history that I found. It is from TEMPO, a mini magazine that only cost 10 cents in 1953. The size is 8" X 6". Truly mini.
I don't know how to blow it up further, but I'm sure you're curious as to the woman.
pages from a 1953 mini magazine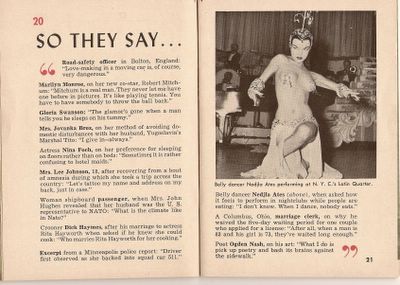 It says, "Belly dancer Nedjla Ates, when asked how it feels to perform in nightclubs while people are eating:
** I don't know. When I dance, nobody eats.**"
She was performing at N.Y.C.'s Latin Quarter. Is that cool or what???
Here are some other quotes from the pages above :

Marilyn Monroe

, on her new co-star, Robert Mitchum: "Mitchum is a real man. They never let me have one before in pictures. It's like playing tennis. You have to have somebody to throw the ball back."
Mrs. Jovanka Broz

, on her method of avoiding domestic disturbances with her husband, Yugoslavia's Marshal Tito: "I give in -always."

Woman shipboard passenger, when Mrs. John Hughes

revealed that her husband was the U.S. representative to NATO: "What is the climate like in Nato??"

Crooner Dick Haymes

, after his marriage to actress Rita Hayworth when asked if he knew she could cook: "Who marries Rita Hayworth for her cooking?"These last two I thought were the cutest:

A columbus, Ohio, marriage clerk

, on why he waived the five-day waiting period for one couple who applied for a license: "After all, when a man is 83 and his girl is 73, they've waited long enough."

Poet Ogden Nash

, on his art: "What I do is pick up poetry and bash its brains against the sidewalk."Wow, now THAT's poetry!!!!!Which one is your favorite? Do any of them rise your eyebrows?? For some of those "comments" I am SO glad we're not of those same opinions in 2005. There is so much more little gems in this magazine. Would you like to see more? Let me know.Until next time.......